The individuals performing in High Zero are amongst the most interesting experimental musicians we can find, drawn from Baltimore, North America, Europe, and Australia (so far). Musicians are selected for the depth of their imagination, their abilities in free improvisation, and their commitment to open forms of collaboration. Most musicians have also performed in the Red Room performance series at least once.
HIGH ZERO 2005 Musicians:
From Afar :
Claire Elizabeth Barratt
dance
Bronx, NY

Claire Elizabeth Barratt has a Dance and Musical Theater background, with training received in her native country of Britain at the London Studio Center of Performing Arts and the Laban Center for Movement and Dance.
She spent ten years in the southern states of Tennessee and North Carolina, where she held the position of Co -Director for "Circle Modern Dance" as well as choreographing for Opera, Musical Theater, Music Video, Commercials and collaborating with Multi-Media, Film, Visual, Music and Literary Artists.
Now based in the Bronx, NY, she runs "Cilla_Vee Movement Projects", a multi-disciplinary performing arts company, performing in the US, Canada, Europe and Japan and is performance curator for Haven Gallery. She served a one year apprenticeship with Lori Belilove & Company of the Isadora Duncan Dance Foundation and has recently been featured in Art Basel Miami, the Washington DC International Improv Festival and the Transmodern Age Festival in Baltimore, MD.
"My work as a movement artist blurs boundaries and crosses categories. Re-defining the traditional concepts of a "piece", challenging the conventions of choreography, performance, time, space and audience relationships".
[hhproduction.org]



Clare Cooper
guzheng, harp
Newtown, Australia

Harpist and Digital Media Artist Clare Cooper is coming to Baltimore for the first time armed with a Guzheng (Chinese table harp) that has closer links to a Groove Box or DX7 synth than a Koto when in her hands.
Clare's recent compositions and improvisations have been hailed as "awe-inspiring in precision, quiet confidence and beauty", "from the percussive opening, which was not unlike a million Jaffas hurtling down the stepped aisle of a cinema, to the glorious watery sounds of the treated guzheng in the second, the seismic guzheng and prickly synth of the fourth, and the Guzheng's snarls sending a DX7 heartbeat racing towards cardiac arrest in the last." (RealtimeArts65 / Sydney Morning Herald, January 2005)
Clare is Co-Director of 'the NOW now festival of spontaneous music', now Australia's key experimental sound and film festival.
[gutstring.net]



Joseph Hammer
tape loops
Los Angeles, CA

Perhaps the only living musicians whose musical instrument is simply the Cross-Fade, low-fi tape-loop manipulator Joseph Hammer is a legendary member of the eerie entity known as L.A.F.M.S. (the Los Angeles Free Music Society) and a living, breathing ball of sensibility. Wearing a white cotton glove, Hammer subliminally "gooses" the position of his well-worn circular recording media in and out of proximity to the fields of oscillating magnetism. This interface, in combination with his fevered imagination, acts as a kind of Dali-esque-soft-cheese-grater to his sentimental musical source material, revealing or creating a psychiatrist's bedside drawer of crawling sonic subtexts through a process that can only be considered SOUND CELL GRAFTING. Hammer is also a co-founder of many influential and cryptic groups, including Dinosaurs with Horns, Points of Friction, Steaming Coils, and the active unit Solid Eye--none of whom really sound like anything else.

Rosie Hertlein
violin, voice
Staten Island, NY

Rosi Hertlein's musical background is divided equally between the worlds of improvisation and contemporary classical music. She began serious study of both violin and piano in the late 70's, before switching her focus to violin and vocals in the 80's. She earned a degree in Sociology in 1989, subsequently traveling to Ghana to study the links between society and music in Western Africa. After returning to Germany, she began teaching and working as a composer, violinist, singer and percussionist in a variety of settings.
Her work in recent years includes collaborations with multi instrumentalists Joe McPhee and Daniel Carter and performances with composer Pauline Oliveros' "New Circle Five". In June 2002 she premiered Cecil Taylor's "With Blazing Eyes and Open'd Mouth" with the "Sound Vision Orchestra" and Mr. Taylor on piano. She performed with Reggie Workman's "African-American Legacy Project" and with the "Jump Arts Orchestra", conducted by Butch Morris, she collaborated with guitarist Bruce Eisenbeil on original music and other projects. She performs with her band "The Improvising Chamber Ensemble (ICE)", with Howard Johnson, Dave Taylor, Vincent Chancey, Jay Rosen, Charlie Burnham and herself on violin and vocals. This project features her particular compositions and concepts. She also sings and plays in numerous classical ensembles and settings and collaborates and performs regularly with dancers.



Peter Jacquemyn
double bass
Brakel, Belgium

Peter Jacquemyn (1963° schaarbeek) moves easily between the visual arts and music. As a sculptor he assaults tree trunks with axe and chainsaw. His concerts are just as spectacular: with unbridled energy he lovingly wrestles his double bass. It is a battle in which all means are fair: bows (1, 2 or 3), dented soda cans, plastic bags, crumpled paper, mutes, horns, retuned strings,... All of this ranges Peter Jacquemyn among Belgium's most interesting improvisers with a very justified international reputation.
[jacquemyn.com]



Mazen Kerbaj
trumpet
Beirut, Lebanon

Mazen Kerbaj was born in 1975 in Beirut and lived there since. His main activities are comics, painting and music.
In 2000 he plays for the first time in concert, in the Strike's pub in Beirut. This concert, a duo with Lebanese sax player Christine Sehnaoui, is probably the first improvised music concert in the Middle East.
In 2001, together with guitarist Sharif Sehnaoui, he creates the MILL association that curates since "IRTIJAL" an annual international festival for free music in Beirut as well as various concerts and events. In august 2002, together with Sharif Sehnaoui and bass player Raed Yassine he recorded the album A released in Beirut.
After meeting Franz Hautzinger in Lebanon in 2003, they played in duo in Beirut and in Paris and recorded an album (abu tarek). Then they were joined by Sharif Sehnaoui and Helge Hinteregger to form Oriental Space quartet (record released by aRtonal)
In 2005, he launches his own label Al Maslakh (the slaughterhouse) to document the Lebanese scene (2 releases, solo and quartet)
Mazen Kerbaj played in solo and various groups in Lebanon, Syria, France, Austria, Germany, Spain and the USA. Regular and occasional partners includes: Sharif Sehnaoui, Christine Sehnaoui, Franz Hautzinger, LÍ Quan Ninh, Bertrand Denzler, Guillermo Gregorio, Gene Coleman, Michael Zerang, Fred Lonberg-Holm, Mike Bullock, Vic Rawlings, Jack Wright...
[kerbaj.com]



Phil Minton
voice
London, United Kingdom

One of the greats of the first generation of British free music. Phil Minton has been working as an improviser/ singer/ trumpet player over four decades. Born near the Southern coast of England in 1940, he started out on the trumpet and began playing in jazz bands in the late '50s. After moving to London in the mid-'60s, Minton began doubling as trumpeter/vocalist for the Mike Westbrook Orchestra, then lived in the Canary Islands for a year, and in Sweden for five before returning to London (and Westbrook's band) in the early '70s. The mid-'70s found him working in a variety of settings, from improvised duos to theatre groups, and in his vocal trio Voice with Julie Tippetts and Maggie Nicols. As an improviser, Minton has toured throughout the world, working with a great many creative musicians, including Peter Brötzmann, Fred Frith, John Butcher, Roger Turner, Derek Bailey's Company, and an ongoing collaboration with Veryan Weston. In 1987 he was voted number one male singer in Europe by Jazz Forum Magazine's top people poll. His unmistakable approach and dedication to improvised music is and has been a great contribution to all fans of music in general. Phil Minton has financial support from NESTA, The National Endowment for Science Technology and Art UK.


Scott Moore
tuba, invented instruments, voice
Brooklyn, NY


Born in Massillon Ohio into a singing, church going family, Scott cut his chops on sleepy Methodist hymns before taking up his fathers' trombone in grade school. This eventually lead to a tenuous and demerit ridden stint as part of the Washington High School Choir and the Tiger Swing Band.

Scotts' work as a sculptor and a performer outside of Tiger Town has focused on a perpetual exploration for the forgotten and lost sound. Various manifestations of this investigation include the founding of such notorious sonic performance projects as Sink Manhattan, Lick the Earth, Hairiest Race, and Interfering With the Operation of This Train While living in Philadelphia.

After moving to NYC in 1996 he is responsible for the dissonant hijinks of Ram Umbus and Nimble One Minded Animals Here as well as the gorilla street work and varied engagements of the Hungry March Band. Scott has also developed a number of solo performances and singular collaborations including opening the first High Zero Festival in 1999.

Most recently Scott has contributed as a performer and a musician under the conduction of Jonathan Beppler in Eve Sussman's new video production 'Raptus', a poetic rendering of the story of the Sabine Women filmed in Greece and Berlin.




Tatsuya Nakatani
percussion
Bronx, NY

Originally from Kobe and Osaka, Japan, Tatsuya Nakatani has resided in the USA since 1995. He had been based in New York City for four years, but now resides in Easton, PA. He has been recognized as a key player in New York's ever-burgeoning creative music scene. His music often defies category or genre and is broadly influenced by various cultures as well as improvised music, experimental music, jazz, free Jazz, and rock. An intense freedom combined with impeccable sensitivity and depth of thought characterizes his approach.
He is widely recognized and sought out as a solo and ensemble performer. His elements of percussion are drum set, gong, cymbal, singing bowls, pieces of metal objects, various sticks and bows. In addition to live performances, he provides sound design for television and film, and collaborates regularly with dancers and visual artists. Nakatani has established an independent record label and recording studio "H&HPRODUCTION" from where he dispatches his music creations to the rest of the world. He has been a recipient of the New York, Bronx Art council individual artist grant.
[hhproduction.org]



Scott Rosenberg
sax
Oakland, CA

Scott Rosenberg (b. 1972) is a composer, reed player, guitarist, singer who focuses on combining composition and improvisation to make music of all kinds ranging from solo contrabass clarinet pieces to full orchestral works. Rosenberg's music spans the distance from abstract, noise-based improvisation to traditional narrative country tunes. He has performed extensively in the U.S. and abroad with a wide range of some really great people.
[barelyauditable.com]



LaDonna Smith
violin
Birmingham, AL

As violinist and violist, LaDonna Smith has been on the international new music scene for nearly 30 years. She is an active performer, as well as an educator and native of Birmingham, Alabama. LaDonna has created a style of improvisation on violin and viola that is uniquely her own. Alternating classical and extended techniques, she explores her instrument, painting scenarios and sound pictures as she plays. She has performed at practically every major improvisations festival and many of the New Music Festivals. She has toured Europe on numerous occasions, playing solo and in collaboration with many musicians. Her travels have taken her from New Music America to the former USSR, Siberia, China an Japan. In addition, she and guitarist, Davey Williams, have toured North America an Europe many times as TransMuseq. By networking with organizers and musicians from other cities, she has been responsible for keeping improvised music alive in the South Eastern United States from its very beginnings. In 1996 and 2004 she was Director of the Birmingham Improvisation Festival, featuring performers form Sweden, Russia, Japan and the Ukraine in concert and workshop, as well as a host of regional and national participants in music, theatre and dance. She has presented workshops in free improvisation throughout the US canada to community teachers and students.
LaDonna has a long history with dance, since 1978, from the early TransMusiq and Birmingham Creative Dance to collaborations with Katie Duck, Ann Law, and others.



Liz Tonne
voice
Boston, MA

Liz Tonne is a sound artist inspired by the unorthodox use of the human voice. Using her voice purely as a sound source, Tonne deconstructs the traditional centrist role of a singer and vocalizes as an instrumentalist in both improvisation and contemporary composition. She is a member of The BSC, a large ensemble of the Boston area's finest electroacoustic musicians led by Bhob Rainey . Tonne consistently collaborates with many fine international improvisers and is also a member of the undr quartet, one of the pioneering ensembles of Boston's lowercase sound, along with James Coleman, Greg Kelley and Vic Rawlings. She lives in Greenfield, Massachusetts with her husband Rob Forman and their daughter, Nina.
[liztonne.com]



Birgit Ulher
trumpet
Hamburg, Germany

Born 1961 in Nuremberg, Birgit studied visual arts, which still has an important influence on her music- abstract painting and the Fluxus movement with its affinity to music.
As a visual artist she works recently on drawings, environments and graphic works on Polaroids.
Since moving to Hamburg in 1982 she has been involved in free improvisation, co-founding a musicians collective, dance projects and solo performances, played often in occasional once only groupings with many of the European and American improvisers.
Birgit has performed recently in Germany, England, Switzerland, Italy, Hungary, Poland, Sweden, Spain and USA, together with UNSK, Jurgen Morgenster, Matin Klapper, the Trio PUT, Marianne Kipp, Tim Hodgkinson, Dorothea Schurch, Ernst Thoma, John Edwards, Michael Zerang, Gino Robair and Martin Blume.
[birgit-ulher.de]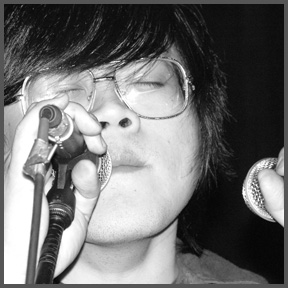 C. Spencer Yeh
voice, violin
Cincinnati, OH

C. Spencer Yeh Born 1975 in Taipei, Taiwan, moved to the US in 1980, and now based out of Cincinnati, Ohio. C. Spencer Yeh is active both as a solo and ensemble artist, as well as with his primary organized sound project, Burning Star Core. As an improviser, Yeh has been focused on developing a personal vocabulary using violin, voice, and electronics. Though those are his preferred methods, Yeh believes that an ideal player should be able to tackle most any instrument or object to create sound of interest, through focus and listening.
Collaborative partners over the years have included Double Leopards, Comets on Fire, John Olson (of Wolf Eyes and Dead Machines), Hair Police, Thurston Moore's Dream/Aktion Unit, Pete Nolan (of Magik Markers), Jessica Rylan, Larry Marotta, and others. When possible, Yeh plays in a trio with Chris Corsano and Paul Flaherty, as a member of Pengo, and Gordy Horn, a Cincinnati-based improv group led by Tim Schwallie of BPA and Wolverton Brothers. Yeh has toured up and down both coasts and the Midwest, and has made appearances at the Victoriaville, Avantronics, the Destijl/Freedom From and the No Fun festivals.
Yeh is also active in many other mediums, including most recently editing videos and authoring DVDs for Hair Police, The Beast People (both of which were recently featured at the IFFR Rotterdam), LoVid, and others. He also works extensively on artwork for Burning Star Core and other releases. (photo: Bill T Miller)
[dronedisco.com]



---
From Baltimore:
John Berndt
reeds, electronics, inventions

John Berndt uses this space to say: "I am against reductionism not on moral grounds, but because it obviously falsifies the evidence--all the reductionisms are full of holes cognitively. A resistance to self-righteousness and ideology follows. I find our actual experience (including self-hood), on close inspection, to be stranger and more compelling than anything that we can conceive via fantasy. A robust sense of possibility goes a long way for me. The fact that we may be 'rushing to our doom' as a civilization, and that people apparently need comforting belief they know to be false to contend with life even without these palpable threats is very strange; both aspects suggest deep problems with sentience. At the same time, I'm glad that empathy exists as a profound change from business-as-usual reality, as well a potential point of departure for a different way of doing things."
[johnberndt.org]



Samuel Burt
clarinet, voice, laptop

It is said that during the Peabody Symphony Orchestra's reading of Samuel Burt's massive composition Parametric Transmutations that one of the violinists began to cry, tormented by the difficulty of her part. Burt's compositions are uncompromisingly different from the norm. They force everyone involved to come to terms with circumstances with which they are unprepared. This can also be said of his improvisations. He thrives on situations in which he must adapt, whether its playing live or setting up the framework for a new composition.
Samuel Burt began his musical career crying in the nursery of a church building to the sound of congregational singing. Eventually, the child migrated to a brief stint with the piano, an early introduction to turn tables, and an Atari XE computer. Now with training in composition, clarinet, electronic music, and voice, Burt has embarked from the Peabody Conservatory to discover more challenging waters. A Collaboration with John Berndt in 2004 resulted in the Speakeroids installation at Baltimore's Contemporary Museum which is now housed in the Berndt Exhibition Space. He created TRAD custom software for the homemade instrument wielding duo THUS. He attended a performance of his work Uncoiled Oscillations at the Society of Electro-acoustic Music of the United States in 2005. His current projects involve computer-interactive performance systems and frontier exploration of clarinet extended technique.
[pcm.peabody.jhu.edu]



Audrey Chen
cello, voice

Mother of Iven (5 years), cellist, vocalist, performance artist, runner, cyclist, organizer, and voted Baltimore's "Best local musician" in 2004, Chen has rehaired her bow 5 times in the last year. She has also toured extensively around the world bringing her sounds and intuition to Poland, Russia, Australia, New Zealand, Taiwan, China, Japan, and the United States.
Past collaborations include: Jaap Blonk, Michael Zerang, Tony Buck, Assif Tsahar, Scott Rosenberg, Le Quan Ninh, Joe Mcphee, Susan Alcorn, Peter Jaquemyn, Michele Doneda, Paolo Angeli, and many others. Some current projects include: duo projects with Tatsuya Nakatani (percussion) and Gianni Gebbia (saxophone) from Palermo, Sicily. The Nakatani-Chen Duo just released their debut CD LIMN. Also, Trockeneis, which includes local luminaries, Catherine Pancake, Paul Neidhardt, Andy Hayleck, and Dan Breen.
"Were she playing in a shoebox, Audrey Chen would be unforgettable. Making her Australian debut, the Baltimore cellist and singer was a highlight of the current arts feast, attacking her instrument in more ways than the press Mark Latham (Australian politician), extracting rich, velvet tones and all manner of percussive effects. Meanwhile, her voice encompassed everything from the operatic to the lunatic to the imitation of her cello. As startling as this was, her performance was also profoundly moving, funny, and unremittingly intense. It culminated in cello and voice becoming one as she blew raspberries on her instrument and smothered it in kisses. Lucky cello." (Joe Shand, The Sydney Morning Herald, 1/22/05)



Che Davis
trombone, conch

Baltimore native, Che Davis grew up in a musically encouraging home environment filled with instruments- guitars, flutes, drums, keys, saxophones, bass, kalimbas, trumpets and computers. Davis began concentrating on trombone at age eleven. He has been influenced by many accomplished educator/performers in his years at Baltimore School for the Arts, among them: Carl Grubbs, Chuck Casey, Dr. Ron Carter and Carolyn Foulkes. Davis has performed in a wide variety of music scenes in Baltimore playing with the Baltimore Afrobeat Society, Devolution, Vattel Cherry as well as in reggae groups, spoken word and poetry ensembles.


Tom Goldstein
percussion

As a New York City freelance percussionist for over twenty years, Mr. Goldstein performed extensively with groups such as the Orchestra of St. Lukes and the Brooklyn Philharmonic, as well as chamber groups, Broadway shows and in nightclubs. Especially active in contemporary music, he has premiered dozens of solo and chamber works, many of which were written expressly for him. From 1980-1990 he served as Artistic Director of the new-music group GAGEEGO. He has toured with Steve Reich, played with Pauline Oliveros, and the ensemble Continuum. He composed and performed percussion soundtracks for NBC world series and US Tennis Open television documentaries. Mr Goldstein currently performs and records with the new music ensemble Ruckus, and the Hoffmann/Goldstein Duo, With which he has a concert tour of Italy this November. He has published articles in Perspectives of New Music and Percussive Notes. He has recorded on Neuma, Vanguard, Polydor, Opus 1, O.O. Discs, CD Tech, Capstone and CRI. Mr. Goldstein is Associate Professor of Music at University of Maryland, Baltimore County.



Rose Hammer
baritone sax

Rose Hammer is interested in a lot of things, particularly complex things that have some kind of underlying elegant but hard to grasp structure. That being said, she has so far been fairly involved in exploring the saxophone as an instrument in the contexts of classical, jazz, and free improvised music. She also has strong interests in computer programming and the outdoors.


Andy Hayleck
bowed metal, electronics

Andrew Hayleck (b. 1972) composer/ musician and recordist. For the past few years he has concentrated on using unamplified bowed metal (cymbals and saw), although recently he has begun to improvise using a computer. Currently a member of Trockeneis, he recently made a solo tour of the west coast of the United States (playing the amplified gong/wire). Recordings include: "Gong/Wire" (earlids), "Various Recordings Involving Ice" (HereSee), and "The Disappearing Floor" (Recorded).



Caleb Johnston
electronics

facts and lies: born north of the equator. Eats only raw foods. Retired from Michigan as a street performer doing situation comedy. Now plays music as part of his social training workshops. Has a brain cyst that was inadvertently discovered during MRI research. Builds and repairs pipe organs as a day job. Stockhausen once called him up on the phone. He has 5 brothers, 2 sisters and a step brother named Twig. He likes the sound of dogs growling. Lives in a very small apartment with many huge objects. Builds garbage assemblages as a night job. Past nicknames: Air Ghandi, Magic Gonzo, Death Dealer, Throw a Chair, White Chocolate and Flip McShitter. Has worked for General Motors, Buick, and Audi designing cardboard filters. Once flew to Holland just to check out the windmills. Caleb rules.



Bonnie Jones
digital delay pedal

Bonnie Jones was born in South Korea in 1977 and until recently her work has focused largely on text and performance. However, a recent trip back to Korea introduced her to the digital delay pedal and circuit bending. For the last year she has been collaborating with Korean musicians, such as the duo Astronoise (Choi Joon-yong & Hong Chul-ki), and expat Joe Foster. A very pleasant trip to Japan gave her the chance to play with percussionist Toshi Makihara and saxophonist Kenichi Matsumoto. Bonnie likes to imagine that she makes sound the way she has always tried to make text - focusing intently on various unique tensions within the space, meaning, and connectivity of the things we use to make art. She also finds collaborative/collective action the most useful thing to do with her time. In October after the High Zero festival, Bonnie will join Joe Foster on a tour of the US West Coast as the duet ENGLISH.
[chelagallery.org]



Jay Kishor
surbahar, sitar

Sitar and Surbahar Artist, Jay Kishor (pronounced: "Jai Kee-Shore") approaches the meditative and mystical Art of Indian Classical Music more as a Poet than a Musician; treating the ancient Ragas with a lyricism, depth, thoughtfulness and grace.
Though groomed in the traditional "master-disciple" training known in Indian Classical Music from reknown masters like Mrs. Annapurna Devi, Pandit Brij Bhushan Kabra, and Dr. Raj Bhan Singh Thakursaheb, Jay is constantly attempting to expand the definitions of "Raga" and "Sitar" through his collaborations with legendary guitarists such as Stanley Jordan, and the late Michael Hedges.
Jay Kishor is the also founder of "touchingGrace", a Sitar based World Music group that combines the ancient and spiritual qualities of Indian Classical Music with the structure of Western Classical, the improvisation and complex rhythm of Jazz, the raw emotion of the Blues, and the energy and verve of Rock.
"The RajDhani Quartet" is an Indian Classical Fusion Ensemble, also created by Jay Kishor, that merges the diverse musics of North (Hindustani) and South (Carnatik) India, while incorporating Raga-based tonal harmonies and Western themes.



Melissa Moore
Clarinet, Yang Chin, Inventions

Clarinetist, instrument inventor, sound-sculptor, teacher--Melissa Moore is a powerful creative force in Baltimore who moved to the city several years ago after making contact with its experimental scene. A biologist and teacher of chemistry by day, Moore's gallery and performantive sound work involves the magnification of minute sound sources, focusing attention on the physical properties of materials and unusual acoustic phenomena in a reductive and elemental way, as well as working with such diverse sources as field recordings, fire, water, and air. She is involved in improvised music, her own conceptual compositions, and she is a frequent collaborator with other Baltimore musicians. Her work often has a laboratory quality that belies it's deep aesthetic and philosophical considerations... and lets not forget, some amazing sounds.

Michael Muniak
laptop, electronics

Michael Muniak graduated in 2005 from Johns Hopkins University with a BA in Neuroscience, earning both general and departmental honors. He has been inducted into Phi Beta Kappa and was named a Becker Family Fund Scholar for 2003-2004. For the past year he has been investigating the cochlear frequency map of the CBA/J mouse in the lab of Dr. David Ryugo, the results of which were presented at the ARO Midwinter Meeting this past February in New Orleans. He is currently wrapping up his 3-dimensional analysis of tonotopy in the cochlear nucleus of the mouse, which will be submitted for journal review. This fall, Michael will begin graduate studies in the Neuroscience Training Program at Johns Hopkins University in pursuit of his PhD.
[psychicduck.com]


Paul Neidhardt
percussion

Attacking drum heads, cymbals and wood with all manner of sticks and objects, Neidhardt is an amazing young improvisor whose music can range from thundering polyrhythms to subtle textual assaults from second to second, recalling the best of European free music drummers. With a background in rock, jazz, and 20th century music, he is a frequent collaborator of Audrey Chen, Chris Pumphrey, John Berndt, and many other musicians and rapidly becoming and important voice in Baltimore's musical landscape.

Carly Ptak
Mind

Do you like sounds that translate mental sandpaper under your brain and skull? Do you like a personality that shoots down shiny new stealth bombers via no brain fly zoner? Are you stuck in a self propagating feedback loop?? Loves cats and fresh raw salmon and weaved baskets and unintentional intent and bb guns and barbeques and touring around the world blowing minds. She has played and does this and released that and operates uh-huh. Love her or hate her-- fuck the middle grounds, all the way or no way. Can't take the heat shoot your self taking up air and room.
[heresee.com]