The individuals performing in High Zero are amongst the most interesting experimental musicians we can find, drawn from Baltimore, North America, and Europe (so far). Musicians are selected for the depth of their imagination, their abilities in free improvisation, and their commitment to open forms of collaboration. Most musicians have also performed in the Red Room performance series at least once.
HIGH ZERO 2003 Musicians:
From Afar :
Susan Alcorn (pedal steel guitar) - Houston

Susan Alcorn, is a Houston-based composer and improvisor who has received international recognition as an innovator of the pedal steel guitar, an instrument whose sound is commonly associated with country and western music. Alcorn has absorbed the technique of C&W pedal steel playing and refined it to a virtuosic level. Her original music reveals the influence of free jazz, avant-garde classical music, Indian ragas, Indigenous traditions, and other music of the world. The Manchester Guardian describes her music as beautiful, glassy and liquid, however far she strays from pulse and conventional harmony. She is a frequent collaborator of Dr. Eugene Chadbourne, Chris Cutler, and Pauline Oliveros. www.susanalcorn.com


Nicole Bindler (dance) - NYC
Transient (currently in NYC, moving to Philly this fall) dancer and choreographer Nicole Bindler is an increasingly well-known movement artist on the East Coast who has found a special niche working with radical musical improvisors. ...A student of complex release techniques, Kegal Gyrotonics, Butoh, contact
improvisation, martial arts and modern dance, Bindler's unique vocabulary incorporates a wide range between subtle, invisible, almost distracted, retarded leg shaking pedestrian psychological movements to intense, psychotic yet focused, formal, tutu, lyrical explosions. She is the first dancer to be included in High Zero as a featured performer, and is a frequent collaborator of musicians John Berndt, Bhob Rainey, Vic Rawlings, and Katt Hernandez and dancers Alli Ross, Joe Burgio, Jessica Newman, Asimina Chremos, and many others. www.nicolebindler.com


Caroline Kraabel (reeds, voice) - London
Caroline Kraabel (saxes and voice, often simultaneously) Los Angeles 1961 - 1964, Seattle 1964-1979, London 1979-Now. Founder of the Honkies in 1987, from the start, spectacle as well as music counted. The Honkies recorded and toured extensively, garnering much praise for their theatrical and energetic live shows. After the demise of The Honkies in 1993, CK devised a 50 minute solo performance, incorporating written and improvised music, singing, dancing, stage blood and a giant sheet of newspaper, and toured with it in the USA and Europe, including an appearance at the Festival of Solo Performers in Geneva in 1995. Caroline was born in Seattle, but is now resident in London. She has recorded w/the Honkies and Orchestre Murphy, but her main projects now are Shock Exchange, a trio w/John Edwards on bass and Charles Hayward on drums, and the Mass Producers, a 21-piece female sax orchestra. CK also plays regularly in London, solo or with people such as Maggie Nicols, Steve Noble, Mark Sanders, Tim Hodgkinson, and the like. carolinekraabel.free.fr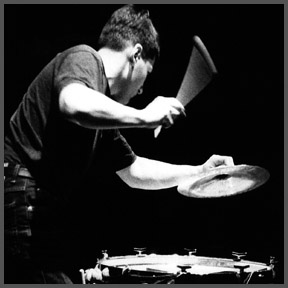 Le Quan Ninh (percussion) - Toulouse, France
Born in Paris in 1961, Le Quan Ninh is one of the most interesting and inspiring new music percussionists in Europe. His freely improvised work combines nearly superhuman precision with an incredible ear and sonic imagination. Frequently driving skin with metal or metal with woods, the resulting sound of Ninh's playing often evokes his own term "Spectral Music on Minimum Budget" (meaning Ninh's technique replace orchestra and super-computer in reproducing extremely complex, shifting textures). Highly sought after, his collaborations with musicians and dancers have included many of the most interesting European free improvisors, including Michel Doneda, Peter Kowald, Daunik Lazro, Joelle Leandre, and many, many others. www.lequanninh.net
Sabir Mateen (reeds) - NYC

Sabir Mateen has been a mainstay on the New York scene since 1989 and the entire music scene for the last 30 years. Having performed with such music giants such as the late Horace Tapscott, Butch Morris, William Hooker, Philly Underground legend, Raymond A. King & Marc Edwards. He
has current relationships with the Raphe Malik Quartet, Little Huey Creative Music Orchestra, William Parker, Jemeel Moondoc, Wilber Morris, Kali Z. Fasteau, The Sound Vision Orchestra, Rashid Bakr, The Sun Ra Arkestra, Bill Dixon, Cecil Taylor, Sunny Murray, Alan Silva, The Downtown Horns (w/ Roy Campbell & Daniel Carter), Mark Whitecage, and many others. Mateen is also a member of the long running ensemble TEST (known for playing intense free jazz on the streets of NYC) and besides leading his own Quintet, (w/ Malik, King, Jane Wang, Ravish Momin, he also leads the band Juxtapositions (with cellist Masako Yokouchi and Matthew Heyner, his New band, Shapes, Textures & Sound Ensemble (w/ Steve Swell, Matt Lavelle, Heyner, and Tatsuya Nakatani) and his large ensemble Movement of the Future Ark. "Finding new cavities that glisten with gems, new harmonic zones to bask in." - Ben Watson


Joe McPhee (reeds, pocket trumpet) - Poughkeepsie, NY

One of the greats of creative music who straddles both tradition and extreme experimentation, Joe McPhee is among the least easily summed up musicians in the festival. Virtuoso multi-instrumentalist, improvisor, Po-Music theorist, composer, Mcphee is notable for the depth and breadth of his activities, collaborative openness, and the focused intensity of his playing. Robert Spencer on Joe McPhee (from allaboutjazz.com): "Joe McPhee is a magician who brings color into sound, crafting musical edifices of extraordinary beauty out of building blocks including pure scorching heat, aching romanticism, and a maturely reverential spirituality." www.joemcphee.com


Andrea Parkins (sampler, piano) - NYC
Andrea Parkins is a New York-based sound artist, composer, and improviser who plays electronically-processed accordion, laptop sampler, electronic keyboards, and piano. Parkins sonically expands her accordion with analog electronics and by fragmenting traditional accordion syntax with noise and other disruptive allusions. In live performance, this idiosyncratic approach to the instrument collides with densely polyrhythmic keyboard tactics and laptop sampling that pays homage to mid-20th century musique-concrete and '70s analog synth sounds. Parkins' composition projects have included solo works; small and large ensemble pieces; and sound design for her own multi-media sculptural installations. During the past 15 years, she has performed in New York City and toured throughout North America and Europe as an ensemble leader, solo artist, and collaborator, and as a member of Ellery Eskelin's widely acclaimed avant-jazz trio with Jim Black. Currently, Parkins is developing a series of MAX/MSP-based generative audio works, with programming by Matthew Ostrowski, that are inspired by Rube Goldberg's circuitous contraptions.


Jesse Quattro (voice, electronics) - San Francisco
Jesse Quattro hails from the Bay Area. She is currently singing in the heavy metal band Carniceria. You can also find her singing on the latest release of the mondo-Persian-psycho-surf-rock-spaghetti-western group, Secret Chiefs 3. Her approach of late appears to be much more subdued than her earlier efforts with the Abstractions or Saint of Killers. Using one or more guitar pedals to effect her voice while tweaking knobs she creates walls of noise, unearthly screeches, and ethereal arias. Focusing now on tribal and religious usages of the voice, she uses delay pedals to build layers of voice that drone and counter. There is a sense of reaching out with eyes closed, floating weightless in the black womb, invoking the fervid prayers of the slain martyr. Jesse Quattro's music is the calming voice that whispers the promise of annihilation.


Jack Rose (guitar) - Philadelphia
"Jack Rose has been in Pelt* for a while now and has been an integral force in their stunning output over the past five-ish years. While the band is best known for sprawling tones, spontaneity and occasional dissonance, Rose has found the time to extract himself from this formula for two releases that demonstrate his remarkable skill as a blues guitarist. In a little more than a year, Rose's acoustic side has issued a CDR and an LP (both in limited quantities) that have been uniformly praised by all those fortunate enough heard them. The CDR, Hung Far Low, Portland, Oregon, first saw the light of day as a largely tour-only release in 2001. It was far too brief, but inspired covers, such as Mississippi John Hurt's "Nobody's Business," demonstrated that Rose possessed a definite talent that had never been expressed in this way with Pelt. Red Horse, White Mule (Eclipse Records, from an edition of 318 copies) plays for thirty-five minutes and is short, like it's predecessor. That said, those minutes have the ability to completely transport the listener, and are destined to be played over and over again."-- Cory Rayborn *Pelt is Rose's minimalist Bluegrass experimental rock band.


Stanley Schumacher (voice, trombone) - Bethlehem, PA
A multifaceted musical background informs the improvisations of trombonist Stanley Schumacher. Besides improvising, Stanley has performed with contemporary classical music ensembles, Dixieland jazz bands, concert bands, swing bands, orchestras, and blues and rock bands. In addition, he composes contemporary classical music. Most of his compositions are for small ensembles and combine pre-planned, aleatory, and improvised elements. A number of his works employ narrative texts, which often exhibit a humorous theatrical element. This theatrical element may also be seen in his colorful vocal improvisations. Stanley's varied experience as a performer, his strong background in jazz, and his training and experience as a composer converge to produce a unique and disciplined performance. He regards free improvisation as "instant composition" and brings form and order to the unfolding piece.
Karen Stackpole (gongs, percussion) - San Francisco
One of the foremost experimental musicians working with large metal, especially large gongs. Located in the Bay area, Karen Stackpole holds certificates from Syn-Aud-Con, Boisen Audio Recording Arts, and UC Berkeley Graduate School of Journalism as well a Bachelor of Arts degree in English Literature from UC Santa Cruz. She makes her living as an independent recording/live sound and mastering engineer, operates Stray Dog Recording Services and specializes in location recording and Foley/sound effects work. Her credits include live albums for TKO Records, Jazz In Flight, Asian Improv Arts, and Limited Sedition, as well as the creation and recording of sound effects for independent film/animation and computer games such as Road Rash 64 and Motocross 2002. Also a freelance writer, Karen contributes regularly to Electronic Musician, DRUM!, and Onstage magazines, writing features and columns on recording techniques, reviews of equipment, and interviews with engineers and musicians. In live performance, she plays gongs, drums, and percussion with various ensembles in the SF Bay Area and Los Angeles, collects microphones and miniature hurdy-gurdies, and wanders desert regions and quiet spaces around the world, either on foot or horseback.


Howard Stelzer (tapes) - Boston
Stelzer has been active as a composer and performer of electronic music since 1992. His music utilizes the qualities inherent to cassette tape and tape players; namely hiss, the roll of tape across play heads, the crackle of dirt caught inside old players, play speed altered manually by pressure from my fingers on the tape's reels. His improvisations tend to employ space and silence as well as gritty low-fidelity noise, and are almost always centered on the physicality of live performance, with an instrumental (rather than the classical 'concrete') approach to the tapes. He has two real CDs to my name, two pieces of vinyl, and several cassettes, CDRs, and compilation tracks scattered here and there. Over the years, he has performed with folks such as Kevin Drumm, Otomo Yoshihide, Le Quan Ninh, Haco, Martin Tetreault, Gert-Jan Prins, nmperign, Roel Meelkop, Axel Doerner, Andrea Neumann, Jason Lescalleet, Lionel Marchetti, Jerome Noetinger, Brent Gutzeit, Frans De Waard, Phil Durrant, Keith Fullerton Whitman, Alessandro Bosetti, and many other avant-garde types and characters of that persuasion. In addition to performing, he operates the Intransitive Recordings label and mail-order catalog for electro-acoustic and improvised music. He regularly host sound-art, electronic and improvised music concerts by visiting and regional artists in the greater Boston area, where he lives.
Todd Whitman (reeds) - Buffalo, NY
The first set of the very first High Zero festival ('99) featured the primordial, guttural saxophonics of Todd Whitman, one of the most exciting and yet under-documented experimental horn players in the country. If the majority of free improvisation evokes the 'subconscious,' Todd Whitman is 'The Id', his music is monstrous and explosive with a directness that is frightening. A highly idiosyncratic player and multi-instrumentalist with an enormously personal approach extended technique, Whitman has been active in the field of improvised music for over twenty years and has been a strong influence on improvisors like Jack Wright, Greg Pierce, and Michael Johnsen.
---
From Baltimore:
Jackie Blake (reeds, flute)
Inspired by the natural musical environment in which he was born, master jazz-composer Jackie Blake is one of the great unsung jewels of Baltimore. Playing improvised and composed music that evokes Charlie Parker, Jackie McClean, and the history of later avant-garde jazz, Blake is a highly original voice (and mind). His musical career has been dizzying yet under-documented, including performances with Ethel Ennis, Cab Calloway, Kenny Durham, The Four Tops, Barry White, Gladys Knight, and many other legends of popular and jazz music. Blake believes that jazz subsumes all other musical classifications from Bird to Brahms, Berg, Middle Eastern, Javanese, Japanese, etc.


Tom Boram (synth, guitar, voice)
Boram began with trombone at age eight. He abandoned his homework in favor of making flatulent portmanteau with the microtonal brass instrument. His father, a high school band instructor, often recalls his horror at the sounds the younger Boram was birthing. "Those early trombone days were my petri dish. My current developments in sound creation are rooted in those youthful experiments with rude tuneless blurting." He now uses AC current from the nearest wall and forces it into his own belligerent geometry. Boram is best listened to through the sinuses.
Dan Breen (multi-instrumentalist)
"I don't on my boat. I count like my sharp something in a. Will you then in a shrimp boat truly suffer though it's small? You're a veteran."
- Bonnie Jones on Dan Breen
Audrey Chen (cello, voice)

Using her trusty cello, self-styled vocal techniques and ever surprising content/concepts, Audrey Chen has emerged as one of the most vital free- improvisors in the Baltimore community and beyond. Her approach to improvisation and performance is extremely visceral. She utilizes traditional and extended technique in order to create a hybrid language that pushes the boundaries of both instruments. These two combined with an unusually strong sense of movement, sound and space, contribute to the constantly fresh depth of her experimentation. Many of her performances incorporate both aural and visual components, utilizing sculpture, movement and sound. Her dance collaborations have involved artists such as Cathy Paine, Leah Stein, Maida Withers and Naoko Maeshiba. Among musicians, she has worked with many great improvisers, including Katt Hernandez, Jack Wright, John Berndt, Tatsuya Nakatani, Assif Tsahar, Michele Doneda, Paolo Angeli, and Gianni Gebbia. She has also recently formed an ongoing duo with percussionist, Toshi Makihara. Some recent performances include site specific works in collaboration with the Leah Stein Dance Company in Bytom, Poland and with choreographer, Maida Withers in Arkhangelsk and Solovki, Russia. In addition to this year's High Zero Festival, she will be appearing at the Kennedy Center with choreographer, Naoko Maeshiba, the nowNow Festival (Sydney, Australia) and touring in China and Japan later this year. She is a member of the Red Room collective and an organizer of High Zero.


John Dierker (reeds)

Baltimore's "Most Valuable Player," John Dierker's ongoing inspiration covers a huge range of music, from rock-and-roll and surf music to arcane forms of jazz and free improvisation. Unpretentious and extremely passionate, the evocatively high integrity screech and warble of Dierker's horn can be heard most nights of the week at venues throughout the city with groups like The Swingin' Swamis, New Volcanoes, il culo, and The Can Openers. He has a highly distinctive sound and is increasingly known outside of Baltimore in free jazz circles and through collaborations with musicians like Jeff Arnal, Sean Meehan, and Lafayette Gilcrhist.


Michael Gayle (piano)

Brilliant improvising Monk-esque pianist whose music contains the secrets of the classical and jazz tradition, as well a freedom and imagination rarely heard on the instrument. Michael's approach blends spirituality and intellect through an intense warmth and application to the instrument. He is a frequent collaborator of Jackie Blake in the band Kahana, and is a teacher as well as composer and improvisor. He is the son of the well-know free tenor saxophonist, Charles Gayle.


Joel Grip (acoustic bass)
Originally from Stockholm, Sweden, Joel Grip has recently
transplanted himself into the environs of the United States of America. Since 2003, Grip has been enrolled in the graduate studies program at the Peabody Conservatory of Music under the master tutelage of Michael Formanek. For the past two years Grip has been on the board of FRIM, the organization for free improvised music in Sweden. He has now also become an increasingly active member of the Baltimore free-music scene. Prior to moving to the States, Grip worked as a musician playing jazz, free improvised, world and classical music throughout northern Europe. Grips music is reflecting his feelings in the moment. Moments that will sound like an ancient language conversing about Jök-Olle, plates of cheese, dingodopels, horses, etc. It is music for "reptile-brains". Don't think, listen now. Mr. Grip is having fun.


Daniel Higgs (voice, jews harp)
Daniel Higgs (Embryo Rainhood, Your bother Apostrophe Truth Forms) was born in Baltimore in 1964. He began singing in 1980, began playing the jews harp in 1987, and founded The Ignorance Research Institute in 1995. The simplicity of the jews harp is deceptive. If it is to be understood as a highly sensitive exo-larynx, the player may sing/speak with a new voice, the conjoined utterance of animal, mineral, and air. Its melodic constraints circumscribe hidden orchards of melody, sub-quasi-ultra-intra-melody, that goad the player toward mystic, melodic resonance whereupon the non lingual word may be enunciated and heard.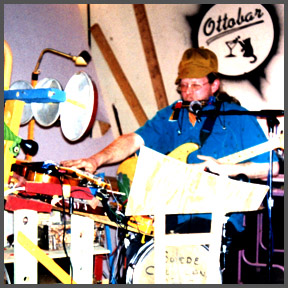 Scott Larson (inventions, guitars)
Multiplicity Larson, percussionist, string player, inventor, artist. A stalwart of large constructions, Scott Larson's ABOMINATION instrument integrates a large number of guitars, drums, and sound-processors into a jungle-gym of sonic mayhem. He is also a fine guitarist who also plays accordion and violin. He has played most often with The Dianna Frowley Three, Little Grunt Pack, and in duo with John Dierker.


David Moré (inventions)

David Moré was born seven hundred and eleven miles northwest of where he lives now. Current pojects include compiling all of the annunciated pauses from a collection of found answering machine tapes.








Catherine Pancake (percussion, inventions)

Catherine Pancake has been performing improvised music for over 7 years in collaboration with various local and national musicians. Her current projects explore the outer limits of free jazz, sublime, uncanny and extreme sound via dry ice manipulation and free form rock/jazz improv aptly referred to as "freak out" music. Pancake's aesthetics and attitudes about experimental culture are influenced by radical politics, queer and gender issues, love of 20th century free jazz and experimental music and other visual/performative arts that explore cognitive dissonance, collaboration, enigmatic phenomena and socio-political-economic conflict. She is also a film-maker and an organizer of the Charm City Kitty Club, an award-winning queer-trans cabaret series, and Transmodern Age, a weekend event devoted to women and experimental culture.



Kristen Toedtman (piano, violin, voice)
After years of classical study, Kristen Toedtman emerges from within the walls of the conservatory with the ears of her childhood still intact: able to hear the secret messages in desert plants and screeching trains. As Kristen tells it, "I was in my late teens when I first fell into the chasm of hearing too much - a conductor pointed out different possible major thirds in a chord - and I thought I might be headed towards trouble until I overheard a really old piano from outside a house and the sounds were amazing - the overtones swimming around and above, very visual. I was hooked ... on sonics!" A professional singer with strong conventional training in piano, violin, and saxophone, Toedtman has an unimpaired sense of curiosity which propels her passionately into a wide variety of musics, ranging from the avant-garde of improvisation to her own compositions and highly developed interpretations of cabaret music, all of which she attacks with imagination and amazing ears. She comes to this year's High Zero festival after completing her first original score for a Robert Anton Wilson play being produced in Los Angeles, Willhelm Reich in Hell, directed by Mike Smith. www.kristentoedtman.com


Bob Wagner (acoustic and electronic percussion)
"The step of Bob Wagner is characterized by a perpetual will to surprise, destabilize and amuse. Percussionist, inventor and improviser, he is responsible for the shutter arts of the streets of High Zero Festival, a major event in the world of the improvised experimental music, in Baltimore. He is a mobile force in the discs of Megaphone and of the music projects: the CanOpeners, the Dorkestra, Mugwump and other." --Theatre De La Rue, Quebec. Wagner is also part Greater Brown, part Can Openers, part Dorkestra, and part Red Room Collective.


Jason Willett (multi-instrumentalist)
At an early age, Jason Herman Willett was plucked from the slow-moving world of Frederick Maryland to become a stand-in bass player for a whilwind european tour of the legendary band Half Japanese--and his life has never been the same. Returning to the US, he set up a record label and record store in Fredrick, both called Megaphone, and began to exert a profoundly expansive and international influence on the local music scene, eventually moving to Baltimore and doing the same there. Always prolifically published on his own and other labels, but never really seeking personal publicity, Willett's outstandingly creative music runs the gamut from the most discombolated and dissonant noise-rock to tightly crafted faux-Italian soundtrack music to some of the strangest improvised dance music ever produced with Leprachaun Catering. His collaborations have included a huge range of notable international musicians including Ruins, James Chance, Jac Berrocal, Chris Cutler, The Boredoms, Jon Rose, Jad Fair, and Mick Hobbs. Anything in Willett's hands is seemingly ready to explode with moving music--from rubber bands to tiny circuits to an invisible trombone. "Jason Willett: Pure non-intellectual love of music on every level, incompatible with banality. " --John Berndt